Upcoming Events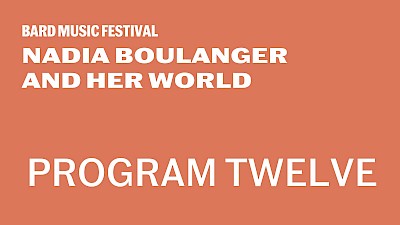 Aug 15, 2021 5:00 pm
Nadia Boulanger and Her World: Confronting Antiquity and Christianity
Details...
Program
L. BOULANGER Vieille prière bouddhique
FAURÉ Requiem, Op. 48
HONEGGER Antigone
THOMSON A Solemn Music
Recent News
"Virgil Thomson: Creating the American Sound" is slated to debut later this year/early 2021 as part of PBS' American Masters series.
Read more...

The Metropolitan Museum of Art hosts the digital premiere of Thomson's 'The Mother of Us All' following a successful run in February.
Read more...

The American Academy of Arts and Letters has announced its 2020 music award winners, including this year's Virgil Thomson Award recipient, James Primosch.
Read more...
Featured Music
Listen to an excerpt from the new recording of Virgil Thomson's opera Four Saints in Three Acts performed by Boston Modern Orchestra Project with vocal soloists and chorus: Act I: Tableau IV - Tableau V.
Like what you hear? Purchase here.
---
Listen to a track from the new recording The Complete Songs of Virgil Thomson for Voice and Piano by Florestan Recital Project: "A Prayer to Saint Catherine" performed by William Hite, tenor and Linda Osborn, piano.
Like what you hear? Purchase here.